Payment Options
We accept many forms of payment. To maintain our gold-standard service, we require payment at the time of service.
Cash
Check
Discover
MasterCard
Visa
American Express
---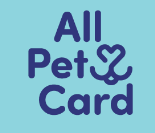 Meet the first credit card that loves your pet as much as you do. Your pets are always there for you. And now, All Pet Credit Card helps you be there for them when they need you most. Special financing* ensures your pets can get the care they need, when they need it, while freeing you to pay over time. All to help you keep those wags, yips, cuddles, and purrs coming.
---

Livermore Family Pet Hospital is proud to offer Care Credit to our clients. We know that times are tough for many folks, but that doesn't mean your pet's health needs to suffer. Care Credit is a credit card specifically for health needs. It can be used for Lasik, Cosmetic, Dental, Veterinary, and other Medical Specialties for both you and your pets! The great thing about Care Credit is that during the promotional period of 6, 12, or 18 months it is 100% interest-free! That means that as long as you make regular payments within the promotional period, there are no charges whatsoever to the cardholder. It is extremely easy to apply (takes only a few minutes), and in general it is easier to qualify than a normal credit card. If your credit is not great, you can even use a co-signer to improve your chance of success.